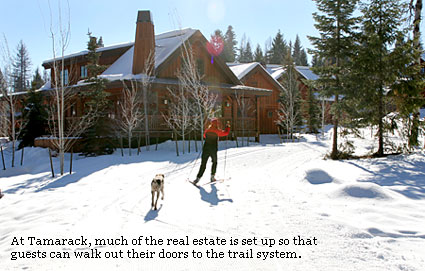 Published in the November 2007 issue of SAM (Ski Area Management)
Natural Partners
Cross-country and multi-use trails can add value to real estate—and we can prove it.
BY JONATHAN WIESEL
Nordic Group International
Cross-country skiing has always had a complex reputation. Too simple or excessively technical, granola or Lycra, boring or terrifying without metal edges. As a business, it's been accused of being a small black hole; as one alpine GM once said, "A cross-country skier is a kid who heads into the woods on Friday and comes out on Sunday without changing either his underwear or his $5 bill."
That may be changing. A 2005 study of the Methow Valley in Washington, home to an extensive network of cross-country trails, shows that cross-country may be the latest real-estate amenity. "The MVSTA trail network plays strongly into respondents' real estate purchasing decisions," the study found. "People buying homes and real estate in the Methow Valley are willing to pay an average of 11.52% ($18,237) more per acre for properties near particular environmental/amenity characteristics (0 to ½ mile) than for properties without these characteristics."
The report (Economic Impacts of MVSTA Trail and Land Resources in the Methow Valley, Resource Dimensions, 2005) confirms that cross-country ski trails—and even more so, well-designed and built multi-season trails—can induce people to move to a specific location to live near those trails. And pay more for the privilege.
It's no secret that convenient access to recreation and viewsheds increases land value. This applies to trails and greenways, too. (Perhaps the best summary is Economic Impacts of Protecting Rivers, Trails and Greenway Corridors, National Park Service, 1995). But the Methow study concentrates for the first time on a trail system whose dominant use is cross-country skiing, and it quantifies the economic consequences.
The Trapp Family Lodge in Stowe, Vt., was the first and probably most celebrated Nordic ski destination in North America to explore this potential. According to general manager Hans von Wees, Trapp's introduced timeshares in the early 1980s, adding ski-in/ski-out "middle-high-end" villas in 2003. About half of their buyers are Baby Boomers, while most of the rest are Gen Xers in their 40s with families. Von Wees notes that while cross-country is "very important" to sales, that's just part of a multi-use trails experience that also includes hiking and running.
Further west, the Aspen/Snowmass Nordic Trail System plays its small part in keeping the area's real estate prices astronomically high. The network was founded in the early 1980s, thanks in part to former Olympic cross-country skier Craig Ward. Now a realtor in Aspen (where the average home price is roughly $6,000,000), Ward says that "the rationale for the trail system was to make it infinitely accessible, to interconnect subdivisions and areas of town, both in Aspen and Snowmass Village."
Ward adds, "I think the cross-country component is a valuable selling component, even if the buyer doesn't do it at all. It adds to the healthy lifestyle that any people hope to attain.… Every home that is sold along our golf courses or open spaces where we have winter cross-country trails will highlight the adjacent trails in the marketing brochures or Multiple Listing Service notes." He believes that "having cross-country trails near to or next to a home for sale most definitely elevates the value…. A ski trail can open up views, be an area for wildlife viewing, or can double as a year-round trail which has many benefits for homeowners."
There are also cases where cross-country areas have unintentionally spurred real estate sales. Montana's Lone Mountain Ranch is one of the half-dozen most famous Nordic destinations in the U.S. Marketing manager Nancy Cooke says that, inspired by their ranch experience, "well over a hundred" guests—many, but not all, cross-country skiers—have bought property in Montana. The ranch itself has become a real estate play; it was purchased in July 2007 by Everlands as part of a world-wide network of fractional ownership destinations. Currently you can buy in for $1 million, with annual dues of $40,000.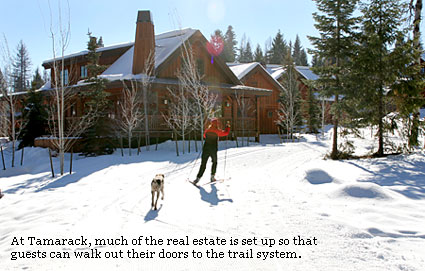 ALPINE AND CROSS-COUNTRY
Historically, a lot of alpine managers have had problems treating cross-country as anything more than a gesture—even though a number of alpine affiliates see more than 25,000 Nordic skier visits annually. In addition, Leisure Trends Group says that 22.4 percent of U.S. alpine skiers have also cross-country skied in the past two seasons. Are Boomers finally making the switch, as has been predicted for decades?
A new generation of four-season resorts may change a few minds. Tamarack Resort in Donnelly, Id., has sold its high-end property extremely well. The resort targets multi-generational travelers, many of whom enjoy the resort's vast network of multi-season trails.
Communications manager Jessica Flynn notes that "Tamarack's master plan was designed with a trail system fully integrated throughout all of the residential communities, providing trail access steps from the porches and front doors of many of the homes. The ease of accessibility throughout the resort, and the proximity of recreation, is a significant selling point to potential buyers." From the beginning, Tamarack incorporated Nordic into the plan; cross-country was the first full recreational offering opened at the resort.
Moonlight Basin in Big Sky, Mont., is another high-end real estate-driven resort. According to trails and landscaping manager Simon Trautman, cross country will be part of a multi-season/multi-use network, with the Nordic operations nexus at a trails/community/recreation center.
Trautman says that the Nordic component will be "very important" to real estate sales and a major part of creating a sense of community. He adds, "Not everybody likes to downhill ski. Amenities are the most important aspect of a community, and I believe Nordic skiing is one of the most important amenities we can offer our guests and clients."
REALTORS' PERSPECTIVES
How do the people who sell high-end recreational properties in resort regions feel about trails? Anne Eckman is a broker/owner/broker at Silver Star Associates in the Methow Valley. She's seen a lot of Baby Boomers who came to Nordic ski, got to know and love the community, and decided to retire in the Methow.
Eckman says that prices have risen so much that a lot of residents have moved out of the prime real estate in the upper valley. Prices are still rising and sales are steady, but inventory is way down, from 800 listings in 1999 to 250 listings in August 2007.
In Steamboat Springs, Colo., Sharon Beaupre, owner/broker of Colorado Group Realty, specializes in luxury properties. She's "starting to have clients who are willing to pay a premium to walk out the door and use the groomed trails." (One client is looking to pay up to $2.5 million to have ski-in/ski-out access to the Steamboat Ski Touring Center.)
Beaupre believes that most people don't buy for Nordic skiing alone, but for proximity to multi-season trails. She notes that "lots of Boomers are dropping into an active lifestyle," and her women friends in particular love the accessibility of cross-country as an alternative to downhill.
Beaupre notes that Marabou, an extremely successful development near Steamboat, where five-acre lots sell for $2 million to $5 million, has "amenities at your fingertips" including a groomed cross-country trail network.
WAVE OF THE FUTURE?
There's another intriguing prospect in the real estate/Nordic relationship: Resorts where property sales will be driven primarily by cross-country skiing. Royal Gorge Cross Country Ski Resort in Soda Springs, Calif., was purchased in 2005 with the intent of creating a "conservation community" that's centered on recreation. Project manager Mike Livak explains that all of the proposed 950 units on 3,000 deeded acres will be Nordic ski-in/ski-out.
Cross-country is "absolutely crucial" to the project; trails will be designed for multi-season use; and target markets are like-minded people who love the outdoors and recreation and want a home in a natural environment.     
In Canada, Pat Corbett, founder/owner of The Hills Health Ranch in 100 Mile House, B.C., has plans for a four-season resort where "it's all about the trails and cross-country will be one of the primary drivers." He expects to start selling in spring 2008. Corbett anticipates 265 upscale units and a spa, with sales targeting skiers, hikers and bikers who will be drawn by "a log cabin the woods experience." Yes, he says, "Boomers are a core piece of the market."
The Nordic ski market has changed dramatically since the sport burst on the scene in the 1970s. These days it appeals to the affluent, especially to women; and these trails can help sell premium-priced property at resorts. This is a trend that has legs.