About NGI
Nordic Group International helps you develop and market state-of-the-art trails-based recreation – from skiing to snowshoeing, hiking to biking.
We're Jonathan Wiesel and associates. Unique in the trails world, we're businesspeople with years of hands-on experience in day-to-day resort operations, program development, and management.
Whether you're a ranch, lodge, golf course, community, or ski resort, you should have the best possible facilities, services, and staff. That's our aim, while helping you create a financially viable and environmentally responsible business.
Jonathan Wiesel, Principal
Jonathan was a founder and co-operator of California's Royal Gorge Cross Country Ski Resort, for many years the largest privately-run Nordic area in the world. He learned the hospitality and outdoor recreation business from the ground up, including guest relations and marketing.
Since co-creating Nordic Group International in 1981, he has been involved with more than 120 Nordic-related projects – cross-country ski areas, real estate developments, guest ranches, golf courses, and alpine ski resorts – across North America.
He knows what quality means for cross-country skiers, whether it's trails, grooming, instruction, staff, or setting. He also understands that hot tubs, lodging, great meals, sledding, and making snow angels can be just as important to guests as skiing.
Jonathan is a Founder and Director Emeritus of Cross Country Ski Areas Association. He's also worked as a cross-country ski and snowshoe instructor/guide, author/writer, and travel consultant.
Expertise
Strategic business plans
Feasibility studies
Operations assessments, including service and hospitality evaluations
Master plans
Marketing, including marketing plans, consumer research, media relations, and websites
Guest ranches
Multi-season trail design
Trailside attraction design ("dalliance points")
Trail coordination with motorized users
Programming (developing a sequence of experiences)
Revenue generation
Staff training
Public presentations
Writing (articles, books, website and brochure copy, etc.)
Travel planning
Cross-country ski destinations in the U.S. and Canada
Publications
Jonathan has written more than 1,000 print and online articles, columns, and blogs, primarily on winter recreation and guest ranches. These have included specialty Nordic consumer publications, ski trade publications, airline magazines, newspapers, and a variety of general consumer publications. He has also written TV scripts for Outdoor Life Network.
Jonathan is the author of e-book Cross-Country Ski Getaways, co-author of multi-year Cross-Country Ski Area Operations Survey, co-author of Great American Sports and Adventure Vacations, and co-author with John Frado of Cross Country Close to Home: A Ski Area Development Manual.
Named a Nordic Hero by Cross Country Skier magazine
Ski Business Magazine called him "the Robert Trent Jones of cross-country"
Ski School Examiner, Royal Gorge Cross Country Ski Resort
Has given lessons to over 4,000 beginner cross-country skiers
History
Rental manager, The Ski Hut, Berkeley, California
Vice President/co-owner, Royal Gorge Cross Country Ski Resort, Soda Springs, California (worked as everything from kitchen help to international trips director/leader)
Ski instructor/guide/groomer/patroller, Powderhound Nordic, Jackson, Wyoming
Ski business seminar organizer/speaker for ski area operators/suppliers and guest ranches, as well as government agencies in the U.S. and Canada
Winter guide and travel planner, Off The Beaten Path, Bozeman, Montana
Author, editor, and freelance writer
Marketing consultant to Nordic ski operations, four-season resorts, guest ranches, and ski industry suppliers
Principal, Nordic Group International
Recognition
Researched accident statistics that helped Nordic operations in the U.S. get livable insurance premiums, instead of being lumped at the same high and expensive risk level as downhill ski areas
As CCSAA representative to American Ski Federation (ski industry lobby), he helped persuade the U.S. Forest Service to allow Nordic areas to use U.S.F.S.-administered lands at reasonable cost
Wrote Cross-Country Ski Vacations, a guide to 125 leading Nordic areas in North America. Research consumed more than 15 years and 3 million calories, with visits to 300+ locations in the U.S. and Canada. The book generated in excess of $2 million in guest revenues for featured areas
Member/former member: Cross Country Ski Areas Association, Professional Ski Instructors of America, National Ski Areas Association, American Ski Federation, Dude Ranchers' Association, Society of American Travel Writers, North American Snowsports Journalists Association
Variously contributor or editor at large for Ski Area Management, SkiTrax, The Ski Industry Letter, Nordic West, Cross Country Skier, and onthesnow.com
Education
B.A., History, Dartmouth College, New Hampshire
Graduate Studies, History, Claremont Colleges, California
Graduate, U.S. Forest Service Avalanche School, Reno, Nevada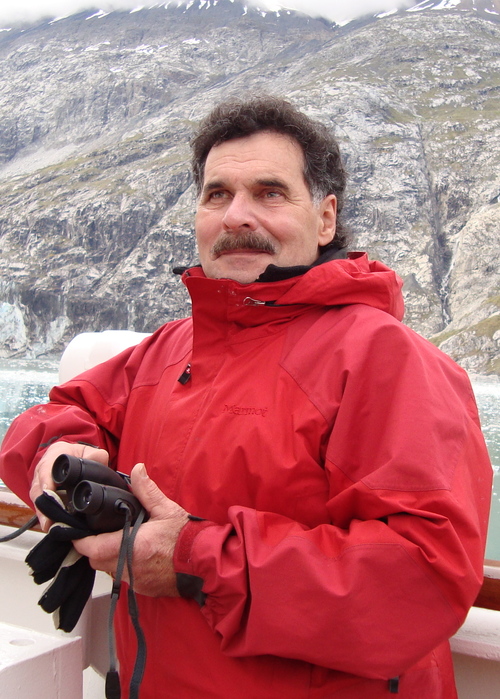 John Frado
1944-2012
NGI co-Principal John Frado died June 20, 2012 from complications following a traumatic brain injury sustained December 20, 2011. Marvelously talented and versatile, his passing leaves a deep void for those who knew this vibrant, intelligent, funny, creative, and caring man.
Meet Jonathan Wiesel & John Frado
Nordic Group International offers years of experience in trails planning and design, plus a wide array of services. The NGI team can guide your project from initial vision all the way through operations.
In the following eight-minute interview, Jonathan and John talk about the trails and planning services NGI offers, the range of clients they work with, the benefits of adding trails, NGI's market-driven approach, what's new in trails planning, environmental sustainability/green construction, and more.